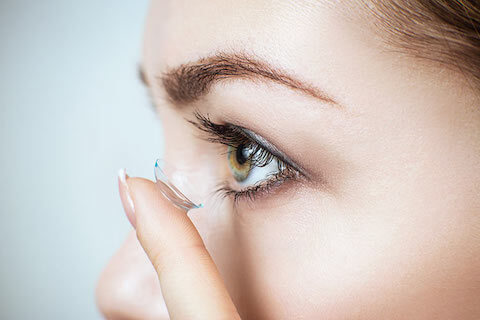 Contact lenses are a popular alternative to wearing glasses. At Shoreline Vision, our doctors provide contact lens fittings and eye care for patients of all ages.
What Are Contact Lenses?
Like eyeglasses, contact lenses are a form of vision correction. They are available in many different forms and can correct various vision problems.
If you are interested in wearing contact lenses, contact Shoreline Vision today to discuss your options.
What Are the Different Kinds of Contact Lenses Available?
The kind of contact lenses you should get depends on what material your eye doctor thinks is best for your eyes. There are five types of contact lenses, although some are not as popular as when they were first produced.
Soft Lenses-Hydrogels: Soft lenses are made from a gel-like, water-containing plastic called hydrogels. This plastic is thin and pliable and easily conforms to the surface of the eye.
Silicone Hydrogel Lenses: This is a more advanced type of soft contact lens. It is more porous than a normal hydrogel lens, which allows more oxygen to reach the cornea. These are the most popular lenses currently prescribed in the United States.
Gas Permeable Lenses: Unlike soft lenses or silicone hydrogel lenses, gas permeable lenses are rigid contact lenses. Although they are rigid, they are still porous and allow oxygen to pass through them. These lenses fit much closer to the eye and often provide sharper vision for patients with astigmatism.
Hybrid Contact Lenses: Hybrid contact lenses combine the comfort of a soft or silicone hydrogel lens with the clarity of a gas permeable lens. They have a rigid gas permeable central zone that is then surrounded by a "skirt" of hydrogel or silicone hydrogel material. Although comfortable, few people wear hybrid contact lenses, due to them being more expensive to replace and fit.
PMMA Lenses-Made From Polymethyl Methacrylate: PMMA lenses are made from a rigid material called polymethyl methacrylate. This same material is also used as a glass substitute in shatterproof windows. PMMA lenses are hard lenses and are rarely prescribed today because they do not allow any oxygen into the eye and can be hard to get used to.
How Often Should You Change Your Contact Lenses?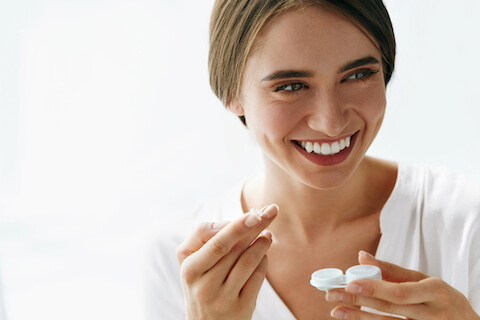 Wearing your contact lenses for too long without changing them can lead to the build-up of lens deposits. It can also increase your chances of developing an eye infection. Follow these recommendations for soft lenses and when to change them:
Daily disposable lenses: Daily disposable lenses, also called dailies, should always be thrown away and discarded after a single day of wear.
Disposable lenses: Disposable lenses should be thrown away after two weeks, or sooner. If your contact lens looks ripped or torn, you may need to do this sooner. Wearing a ripped or torn contact lens could cause damage to your eyes.
Frequent replacement lenses: If you wear these kinds of contacts, you should replace them every month or every quarter.
Reusable lenses: Replace traditional reusable contact lenses every six months or longer. With gas permeable lenses, they may last a year or longer before you need to replace them.
Who Can Wear Contact Lenses?
To wear contact lenses, you must have a prescription from your eye doctor and a contact lens fitting. The prescription for contact lenses is different than the one you will receive for eyeglasses.
How Are Contact Lenses Fitted?
During your contact lens fitting, our doctors will go over your contact lens options. You will also be asked about your preferences and whether you would prefer disposables or overnight contacts.
Like an eye examination, you will need to have your contact lenses fitted properly. Part of this includes measuring your cornea with an instrument called a keratometer.
The keratometer measures the curvature of the cornea. This is important when choosing the right kind of contact lenses, as well as the correct size and curve.
Your eye doctor may also use an instrument called a corneal topographer that measures how the device's light reflects off your eye. Corneal topography creates a map of your eye, making it easier to fit you with contact lenses that fit the first time.
You may also have the size of your pupil measured. This is done with a card or ruler that shows different pupil sizes held next to your eye.
This will determine what the best size match is. You may also have the diameter of your iris measured. This helps your eye doctor pick contact lenses that fit well and are not too big for your eyes.
In most contact lens fittings, your eye doctor will have you practice putting in a pair of practice contact lenses. Not only does this help you get used to putting in contact lenses, but it also helps your eye doctor confirm the pair is a good fit for your eyes. If they are, they will write you a contact lens prescription. This prescription shows contact lens power, the base curve of your eye, and the diameter of your eye.
Request an Appointment
Please note we are seeing patients by appointment only, including optical. Call 231.739.9009
or
click here
.