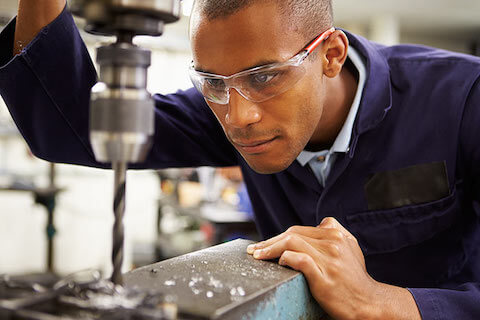 Wearing prescription safety glasses is an easy way to protect your eyes from unexpected injury. Safety glasses do this by creating a barrier that protects you from light radiation, heat, glare, and debris or dust.
For glasses to qualify as safety glasses, they must satisfy OSHA standards for both indoor and outdoor use. At Shoreline Vision, our doctors can help you find the right safety glasses that fit your needs and meet OSHA standards.
Can Prescription Eyeglasses Take the Place of Safety Glasses?
Although they may look similar, prescription eyeglasses and safety glasses are not the same. For the safety of your eyes, you should not swap one for the other because safety glasses are made of different materials.
Safety glasses are specifically made to protect your eyes from any hazards like harmful particles or debris. All prescription safety glasses must meet strict standards put into place by the American National Standards Institute (ANSI).
In order for a pair of safety glasses to meet OSHA standards, they must meet the strict standards of ANSI as well.
A pair of prescription eyeglasses is not capable of protecting your eyes against workplace hazards. Using prescription eyeglasses instead of safety glasses only puts your eyes at risk for harm or injury.
Is Wearing Safety Glasses Bad for Your Eyes or Eyesight?
Because safety glasses use plastic lenses, many people fear that it will strain their eyes or cause vision problems in the future. This is not true.
Safety glasses are not bad for your eyes or your eyesight. They are only meant to protect your eyes from occupational hazards. If you experience strain or fatigue while wearing safety glasses, it is due to other factors. This could be from wearing ill-fitting glasses, having scratched lenses that are hard to see out of, wearing the wrong tint, or poor optical clarity.
Safety eyewear is not meant to cause you any discomfort. If your safety glasses are not fitting you the way they should, come to Shoreline Vision. We will help you find the right pair.
Are Prescription Safety Glasses Legally Required?
Depending on the circumstances, yes, prescription safety glasses are legally required. If employees are exposed to any kind of job hazards, OSHA requires them to wear protective eyewear.
This is true if you are exposed to flying particles, liquid chemicals, chemical gases, vapors, acids, caustic liquids, molten metal, or light radiation.
If you do not need to wear prescription safety glasses, your employer may provide you with safety eyewear that can go over your normal glasses. Many people choose to wear prescription safety glasses instead of this kind of safety eyewear since it can be bulky and cumbersome to wear.
Will My Employer Pay for My Prescription Safety Glasses?
If your prescription safety glasses are only being used on the company property and will not leave that property, your employer must legally pay for them. Employers may also provide alternatives like goggles that fit over prescription eyeglasses.
If you plan on using them off the job site or for personal use, you must pay for your prescription safety glasses.
Many employers will offer employee programs that pay for some of the cost of prescription safety glasses. Speak to your employer or your HR department if you want more details.
Does Shoreline Vision Carry Safety Glasses?
Yes, Shoreline Vision carries a stock of OSHA-approved safety eyewear for patients to choose from. Our lenses are formulated to make sure your eyes are not injured, no matter what occupational hazards you may come into contact with.
We have safety accounts set up with many large industrial companies, making it easier than ever to get your safety glasses.
Request an Appointment
Please note we are seeing patients by appointment only, including optical. Call 231.739.9009
or
click here
.