Diabetic Retinopathy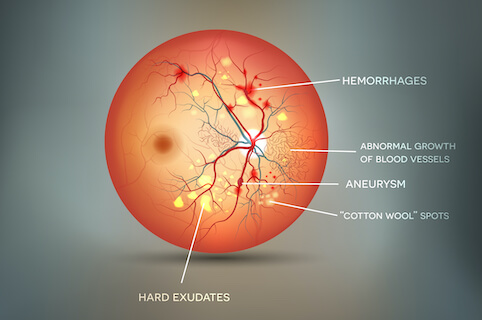 If you or a loved one have diabetes, your chances of developing diabetic retinopathy increase. The doctors at Shoreline Vision have a great deal of experience treating patients with diabetic retinopathy. Keep reading to learn more about diabetic retinopathy.
What is Diabetic Retinopathy?
Diabetic retinopathy is an eye disease that can affect people who have diabetes. Diabetic retinopathy occurs because patients let their blood sugar levels get too high.
As a result, this causes damage to the retina's blood vessels, including swelling and leaking. They can also close altogether, stopping any blood from being able to pass through them.
It may also lead to the growth of abnormal new blood vessels growing on the retina. These new blood vessels are not as strong as normal blood vessels, so they often leak blood or other fluids, which can result in vision impairment.
What Are the Stages of Diabetic Retinopathy?
There are two main stages of diabetic eye disease: non-proliferative diabetic retinopathy (NPDR) and proliferative diabetic retinopathy (PDR).
Non-proliferative diabetic retinopathy is the early stage of diabetic eye disease, which many diabetics have. With non-proliferative diabetic retinopathy, the retina swells up, thanks to tiny blood vessels leaking. If the macula swells, it leads to macular edema.
Macular edema is the most common reason why people with diabetes suffer vision loss. Non-proliferative diabetic retinopathy may also lead to blood vessels in the retina closing off as well, known as macular ischemia.
If blood vessels close off, blood can no longer reach the macula. This may also lead to the formation of exudates, which are small particles that can form in the retina, which may affect the quality of your vision. Patients with non-proliferative diabetic retinopathy often suffer from blurry vision.
The second and more advanced stage of diabetic eye disease is proliferative diabetic retinopathy. Diabetic retinopathy moves into this more advanced stage when the retina starts growing new blood vessels, which is a process called neovascularization.
In this advanced stage, it is common for these new blood vessels to bleed into the vitreous. In some cases, this may result in a few dark floaters. If the new blood vessels bleed a lot, it might result in the blocking of all vision.
Besides the potential to block all vision, the new blood vessels can also lead to the formation of scar tissue. Having scar tissue could cause problems with the macula or even lead to a detached retina in some cases.
What Are the Symptoms of Diabetic Retinopathy?
Like a condition such as glaucoma, diabetic retinopathy often has no discernible symptoms in its early stages. As it gets worse, symptoms that you may notice include:
Blurry vision
Experiencing poor night vision
Noticing that colors look washed out or faded
Noticing that your vision changes from blurry to clear
Seeing an increase in the number of floaters
Seeing blank or dark areas in your field of vision
These symptoms will usually affect both eyes. Talk to your eye doctor if you suspect you may have diabetic retinopathy.
Looking for more information about diabetic retinopathy? The doctors at Shoreline Vision are here to help. For over 50 years, the physicians of Shoreline Vision have been providing our patients with excellent vision care.
Schedule a consultation with us at one of our six convenient locations in Muskegon, Norton Shores, North Muskegon, Grand Haven, Spring Lake, and Fremont, MI.
Request an Appointment
Please note we are seeing patients by appointment only, including optical. Call 231.739.9009
or
click here
.