COVID-19 UPDATE: Our offices are open! Please call 231.739.9009 to request an appointment!
Learn More

What is LASIK?
Have you dreamed of a life that includes visual freedom from glasses and contact lenses? If you qualify for LASIK, this could become your reality.
Shoreline Vision is proud to offer Blade-Free LASIK as part of our ongoing commitment to patients who want the latest advances, the best vision, and the highest quality of life.
LASIK is an elective procedure available for those patients that qualify. It can correct the vision of those that have refractive errors like nearsightedness, farsightedness, and astigmatism.
LASIK is a permanent procedure because it involves reshaping the cornea using two lasers. By reshaping the cornea, refractive errors are corrected, and light focuses on the retina in the back of the eye correctly.
Blade-Free LASIK uses wavefront technology to create a 3D map of the cornea. This makes the LASIK procedure as much as 25 times more precise than a conventional LASIK procedure. Patients end up with greater clarity in vision, as well as fewer complaints of glare and halos at night.
Shoreline Vision's Premier LASIK Surgeons
The Team to Help you Choose the Best Option for Your Unique Eyes
How Does Blade-Free LASIK Work?
Blade-Free LASIK involves using lasers, leading to enhanced precision and better results for patients. The first step is using a computer guided laser to create a corneal flap.
The computer guided laser moves gently back and forth across the eye. Below the corneal surface, a uniform layer of tiny bubbles forms.
After the bubbles form, the flap is created, and the surgeon separates the tissue where the bubbles have formed. Once flap creation is completed, the corneal flap is then lifted.
This exposes the inner layer of the cornea, which is thicker than the rest of the cornea. A miniscule amount of corneal tissue is then removed with the utmost precision thanks to the 3D map of the cornea.
After reshaping the cornea, the flap is laid back into place. It covers the area where the corneal tissue was removed from.
The flap will then seal onto the cornea as the eye heals after Blade-Free LASIK. The eye does not need any bandages or stitches as it heals on its own. Who is a Good Candidate for Blade-Free LASIK?
Like any surgical procedure, Blade-Free LASIK is not right for everyone. Before you can undergo LASIK, you must first qualify as a candidate for the procedure. Factors considered during a LASIK consultation include the following:
Age:
According to FDA mandates, you must be at least 18 years old to undergo LASIK. Most LASIK surgeons prefer patients in their mid to late twenties to make sure their eyes are stable enough.
Prescription stability:
Your prescription must remain unchanged for at least a year to two years before you can get LASIK. If your eyes are still changing or are unstable, you may not get the results you want.
Health:
You need to be in good health to get LASIK. If you suffer from any autoimmune conditions like Sjogren's syndrome, diabetes, or HIV, you may not be a good candidate for the procedure. You must be able to heal easily after a procedure like LASIK.
Pregnant or planning on becoming pregnant:
You cannot get LASIK if you are currently pregnant or nursing. Pregnancy causes hormonal changes which can change the shape of your cornea, leading to temporary vision changes.
For the best results, you should wait to get LASIK once you know you are done having children. If you are currently nursing, you should wait at least three months before getting LASIK to give your eyes time to stabilize.
Eye health:
Like being healthy, your eyes also need to be in good shape. If you have any conditions like dry eye syndrome that are not currently under control, you should not get LASIK.
You may be able to get the procedure once your symptoms are under control. One of the most common side effects of LASIK is temporary dry eye, which may make existing dry eye symptoms worse.
Corneal thickness:
During your LASIK consultation, you will have your corneal thickness tested. If your corneas are too thin, it is not safe for you to get LASIK. There must be enough tissue to remove it during the procedure and reshape the cornea.
Have a prescription within acceptable limits:
Although LASIK is a life-changing procedure, it is not right for everyone. If your prescription is too strong, LASIK may not be the right vision correction procedure for you.
If you have extremely high refractive errors, it makes the LASIK procedure less predictable and riskier to perform.
The only way to know if you are a LASIK candidate is to schedule a LASIK consultation at Shoreline Vision. Schedule yours at one our five convenient locations in Muskegon, Norton Shores, North Muskegon, Grand Haven, Spring Lake, and Fremont, MI.
Request a LASIK Consultation
Request an appointment today to experience the Shoreline Vision difference. Call 231.737.4751 or click here.
Laser vision correction may be more affordable than you think!
Laser Vision Financing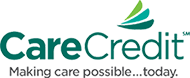 Our goal is to make Laser Vision Correction affordable. CareCredit provides our patients with:
Interest Free Plans up to 24 months

No Down Payment Requirements


Affordable Low Monthly Payments

No Early Payoff Penalties
Applying is easy! An application is required for this special financing option and subject to credit approval. Minimum monthly payments are required.
Apply Now
Read our
Reviews
4.9 Average Rating
3000+ reviews
M.S.
Dr. Oltean is very knowledgeable, and easy to work with. The staff is outstanding. I would recommend Shoreline Vision to anyone in need of Eyecare.
M.H.
My cataract procedure was very well organized and very well executed. Each team member knew their role, communication was excellent, and the process was flawless. But there was also an underlying sense of genuine concern and kindness from everyone involved. The best part of all: my vision is better than it's ever been before.
D.B.
A little wait time but always glad to see Dr. Barron. My ability to see without glasses is a miracle to me. God bless.
M.N.
Attention To My Needs And Clarity Of My procedure all were met with the utmost of professionalism and kindness.
Contact Us
Please do not include personal identifying information such as your birth date, or personal medical information in any emails you send to us. No one can diagnose your condition from email or other written communications, and communication via our website cannot replace the relationship you have with a physician or another healthcare practitioner.