Shoreline Vision continues to offer only the best to our patients by performing Blade-Free LASIK. Blade-Free LASIK uses wavefront technology, which is some of the most state-of-the-art LASIK technology available.
What Is Wavefront Technology?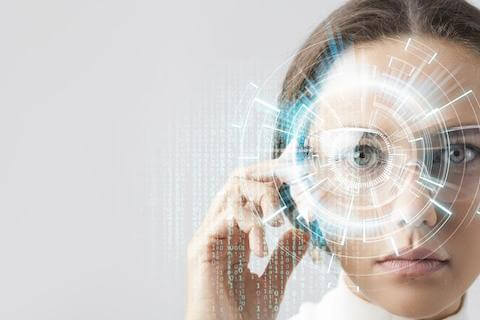 Wavefront technology is the key reason why Blade-Free LASIK is so precise and provides patients with the best vision after LASIK. With a conventional LASIK procedure, patients only experience vision correction that is at the same degree as what their eyeglass prescription provides them with.
But your eyeglass prescription is unique, like your fingerprint and other individual characteristics. With wavefront technology, Blade-Free LASIK can provide patients with visual results that are as one-of-a-kind as their eyes.
This is because the measurements used in wavefront technology are 25 times more precise than the lens power normally used in an eyeglass prescription. These measurements are then collected from hundreds of individual reference points on the front surface of the eye.
These points are then used to create a detailed, 3D map of your refractive errors and cornea. This creates a personalized road map for your LASIK surgeon to follow as they perform the procedure on you.
What Is the Advantage of Using Wavefront Technology During LASIK?
The most obvious advantage of using wavefront technology during LASIK is a higher level of precision. Another lesser-known advantage of wavefront technology with Blade-Free LASIK is for people with higher-order aberrations.
For these patients, traditional LASIK procedures can make these aberrations worse. They do not impact the ability to see clearly after having LASIK, but they make other vision needs more difficult, especially in situations at night when the pupil is dilated.
These patients may experience issues with night vision, or have issues seeing bright lights in darkness. These issues can go away, but it may take several months, or it may become a permanent problem.
But with wavefront technology, these aberrations are adjusted at the same time as the cornea is being permanently reshaped. This means that issues like seeing halos or glare around bright lights or experiencing problems when the pupil dilates in low light are less likely to occur. This is a significant advantage of wavefront technology and the LASIK surgeon having a one-of-a-kind roadmap of the cornea to follow.
Am I More Likely to Be a LASIK Candidate with Wavefront Technology?
As LASIK is a surgical procedure, not everyone will qualify for it. About 15-20% of people who want LASIK are not good candidates for the procedure.
But some patients who have been told they are not good LASIK candidates may be good candidates for Blade-Free LASIK used with wavefront technology. This is not going to be the case for every patient, but it can change candidacy for some patients. The only way to know for sure is to schedule a LASIK consultation.
Wavefront technology has made Blade-Free LASIK safer and more precise than ever before. Patients that have LASIK with wavefront technology will experience a procedure performed with precision and results that will last the rest of their lives.
Want to experience Blade-Free LASIK with wavefront technology for yourself? Schedule your LASIK consultation at Shoreline Vision in Norton Shores, Muskegon, North Muskegon, Grand Haven, Fremont, and Spring Lake, MI now.
Request a LASIK Consultation
Request an appointment today to experience the Shoreline Vision difference. Call 231.737.4751 or click here.