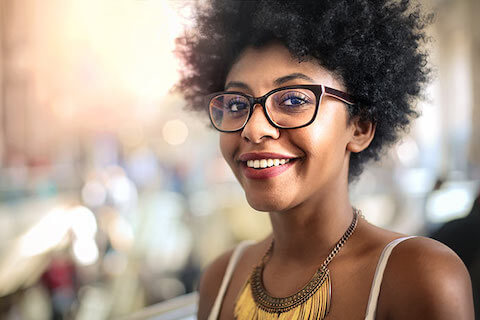 Our experienced opticians will ensure that your frames suit your style, your face, your visual needs, and your prescription. Careful attention to the elements of fit, form, and function ensures a comfortable and stylish pair of eyeglasses. With our wide range of frame shapes, sizes, colors, materials, and styles, you're sure to find many choices for your eyewear needs. We offer brands you know, and some you may not have discovered yet. We carry frames for the whole family, including infants. Come visit us to find your next favorite pair of glasses and sunglasses!
Eyeglass Frame Materials
Magnesium: This super-lightweight material is strong, durable, and Hypoallergenic. Because of its unique properties and high cost, it has been used in the high-end frame market.
Beryllium: Beryllium is six times stronger than steel and more than 30% lighter than aluminum. It is lightweight, durable, flexible, and is available in a wide range of colors. Beryllium resists corrosion and tarnish, making it an excellent choice for wearers who have high skin acidity or spend time in or around salt water.
Pure Aluminum: In addition to its aesthetic merits, this material is also strong and lightweight. The fact that it can be recycled also makes it increasingly desirable.
Titanium: Titanium is as strong as steel, lightweight, hypoallergenic, and corrosion-resistant. This material has picked up speed in the eyewear industry as a lightweight option that lends itself to unique designs and colorations.
Ticral: Ticral is an alloy of titanium. It is nickel-free and thus hypoallergenic. It's also extremely lightweight and offers many of the features of titanium without the high cost.
Stainless Steel: Stainless steel is non-corrosive, durable, strong, lightweight, and hypoallergenic. It can also be easily shaped into ultra-thin eyewear styles and has flexibility, which adds to the wearer's comfort. Because of its durability, light weight, and sleek appearance, stainless steel has long been a choice of eyewear designers.
Nickel Titanium: This material is more flexible than steel and 25% lighter than conventional metals. Flexibility removes the need for a spring hinge and increases comfort and durability for patients who are hard on their eyewear.
Monel™: Monel,™ the most commonly used frame material today, is often used for components that require sturdiness and rigidity, such as temples and bridges. This alloy is strong and it can also be welded, brazed, and soldered.
Plastic: Plastic materials have many style and material options. Easily colored, laminated, patterned, or even layered with fabrics, this material is one of the more creative and workable options.
Gliamides and Grilamid®: Gliamides and Grilamid is also a premier material for sports and performance frames. Typically made of a high quality thermoplastic material that is shock resistant, lightweight and non-allergenic.
Combination Frames: Combination frames help you get the best of both materials with frames that combine the sleek sophistication of metal with the colors and thickness of plastic. The cool contrast of these popular material duos adds visual interest.
Never before has there been such a variety of frame materials to use for informed, technologically driven patients. Ask us about the features and benefits of each frame material and what best meets your lifestyle requirements.
What Are Opticians Looking for When Fitting a Pair of Glasses?
The frame shape and design details suit the shape of your face.
The frame size suits the width of your face and head, ensuring they fit without being too tight or too loose. Too narrow will create pressure points on the side of your head and too wide may cause them to slip down your nose and/or fall off your face.
The frame color compliments your eye color, hair color, skin tones, and wardrobe.
The bridge of the frame rests comfortably on the bridge of your nose. The pressure from a bridge that is too large or too small can cause redness and irritation on your nose.
The temples are the appropriate length. Temples that are too long or too short can be uncomfortable and cause a poor fit. We custom fit your temple bend specifically to your ears for optimal comfort and function.
The frame size and shape is suitable for your prescription and your visual needs. Our opticians have the experience to ensure that your lenses and frame combine beautifully so you look great and see clearly.
Request an Appointment
Please note we are seeing patients by appointment only, including optical. Call 231.739.9009
or
click here
.