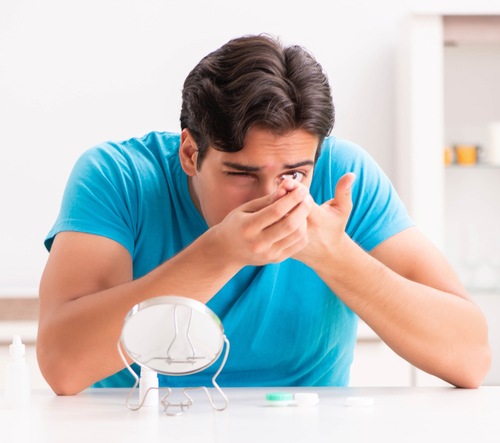 LASIK may be for you if you wish you could see clearly without needing to wear contact lenses. There are many reasons why patients opt for laser eye surgery instead of contacts. One study even found that LASIK results in a much higher satisfaction rate compared to corrective lenses.
Choosing to have a laser vision correction procedure like LASIK can provide visual freedom, eliminating your reliance on contacts. It can make a real difference in your vision and life. Keep reading to find out if having LASIK may be the better choice for you instead of wearing contact lenses.
LASIK Can Be More Comfortable Than Contacts
Have your eyes ever felt dry and tired after a day of wearing contacts? When you wear contact lenses that reduce the amount of oxygen your eyes can receive for an extended amount of time, it can lead to unwanted side effects like dryness and irritation.
As a one-time procedure, LASIK removes the need for enduring contact lens related side effects. Evidence has also shown that wearing contacts is associated with more risks than LASIK. Overwearing your contacts or not cleaning them properly can cause infections and other complications.
Enjoy the Convenience of LASIK
Whether you want to jump in the pool or work out, you must consider your contacts first. When the weather is warm, you typically have to choose between swimming or your ability to see, since contacts should not be exposed to water.
During a workout, contacts may slip out of place. It can be easy to lose or damage them too.
When you have LASIK, you can see clearly as soon as you wake up. There is no daily maintenance needed.
You will no longer need to deal with blurry vision before putting your contacts in, also saving you time in the morning and when taking them out at night. You will avoid wasting precious time reordering contacts and other contact lens supplies.
LASIK Can Be More Affordable Than Contacts
Many patients are under the misconception that LASIK is more expensive than contacts. While its initial cost may seem high, laser eye surgery can be more affordable over the long term.
Buying contacts monthly can add up quickly while getting LASIK is a one-time cost that you can pay off over time. When you factor in the continuous need to purchase contacts and the cost of cases, solution, and more frequent eye exams, LASIK may end up being the smarter financial decision in the long run. Our LASIK cost-savings calculator can help you evaluate your specific situation.
Are you looking for something to correct your vision besides contact lenses and glasses?
Request an Appointment
Please note we are seeing patients by appointment only, including optical. Call 231.739.9009
or
click here
.