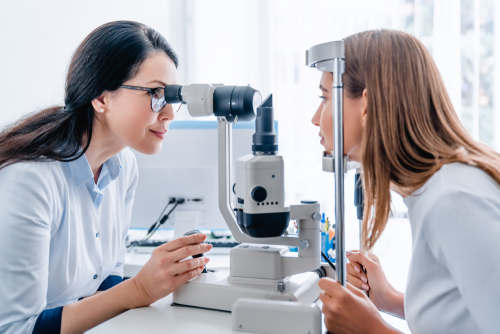 Did you know that most flexible spending dollars expire at the end of the year? With January right around the corner, do not let those funds go to waste.
Now is the time to make sure you head into the new year with clear vision by using your FSA for an eye exam.
What Is a Flexible Spending Account?
A flexible spending account (or FSA) sets aside funds that you can use towards healthcare costs. The perk of an FSA is that these funds are pre tax or tax-advantaged, so you do not have to pay tax on them. This allows you to save money on your healthcare needs, including eye care.
Many employers offer FSAs as part of their healthcare benefits. Some even match employee contributions or will set contributions of their own.
Most FSAs do not roll over, meaning that the funds expire at the end of the year if you do not use them in time. This is why it is important to utilize those funds now before you lose them.
An FSA vs. an HSA
There are a few notable differences between a flexible savings account and a health savings account (HSA).
The most significant difference between the two specialized accounts is that funds from an FSA do not rollover. They generally expire at the end of each year (although some employers offer a grace period).
However, the funds in an HSA can roll over from year to year. You own your HSA, making it portable. If you choose to leave your job and go somewhere else, your HSA will go with you.
Another distinction between an FSA and an HSA is that your HSA allows you to contribute more to it annually. This means you can accumulate more funds than with an FSA.
Using Flex Dollars for an Eye Exam
There are a variety of vision costs you can spend your flex dollars on, with perhaps none more essential than an eye exam. If it has been a year or more since your last exam, consider scheduling one before the end of the year.
Regular exams are necessary for healthy eyes and the best way to ensure your vision does not have any problems. During an eye exam, our eye doctors will thoroughly evaluate your vision and check for various conditions.
Even if you feel your vision has not changed since your last exam, we always recommend an exam to be safe. The earlier we can detect potential conditions, the better we can treat you and ensure you'll continue to see clearly.
You can use the funds in your flexible spending account to help offset the cost of copays and deductibles for your eye exam. If you still have funds after your eye exam, you can also use them to order glasses or contacts or put them towards other vision-related costs like contact lens solution and cases.
You may have an FSA card you can use to pay these costs upfront, or you may be required to submit a receipt to your provider for reimbursement. If you have any questions, contact your provider for more information. If you still have flex dollars to use, the time is now to make sure they do not expire.
Request an Appointment
Please note we are seeing patients by appointment only, including optical. Call 231.739.9009
or
click here
.